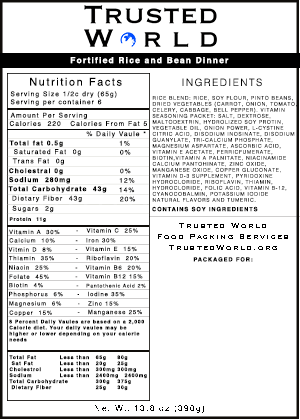 The short-term plan for food is to provide families with highly nutritious food packets on "Day One". These food packets are cooked with water until they boil and then served to the families.
We must bring the average nutrient level up in each individual that lives in poverty. We plan to raise the average nutrient content by packing food and shipping them around the world, around the nation or local as needed.Our food packages reverse the starvation process, help restore health, and improve a child's mental and physical alertness. Each package provides six nutritionally complete servings to feed the starving children and families around the world and the hungry here at home, all for the low cost of 25 cents per serving.
Global Acceptance: Rice, a globally recognized staple, is used as the base.
Protein Rich: Each package contains 66 grams (six 11 gram servings) of protein.
Vegetables: Each package contains dehydrated vegetables.
Vitamin and mineral fortified: Each serving contains 21 essential vitamins & minerals for a growing body.
Multiple servings per package: One package provides six one-cup servings.
Simple to Prepare: Boil package contents in water for twenty minutes.
Long life: Each sealed package has a shelf life of three years.
Through our network, we are providing 500,000 meals a month to the refugees in Northern Iraq. We also provided 80,000+ meals to the victims in Louisiana who have lost everything to flooding with more on the way.

Food Facts
Some symptoms you may see if you go more than a couple of days without food are:
Weakness
Confusion
Chronic diarrhea
Irritability
Bad decision making
Immune deficiency
Advanced starvation will cause your organs to shut down one by one. People in the throes of severe starvation might experience the following:
Hallucinations
Convulsions
Muscle spasms
Irregular heartbeat
Want To Help Our Team?
Your group, community, family, church or local organization can sponsor a food packing event. You can host an event where you can pack 20,000/50,000/100,000 or any amount in-between or more. You can use the food packets for your own organizations needs or donate them to Trusted World and we will make sure they get used around the world.
$5,000 allows us to buy all the material to pack 20,000 meals. That's $0.25 a meal.
Donate now to help feed families in need